According to the Decree of the President of the Republic of Belarus of August 29, 2016. No. 322 "On the provision of non-cash housing subsidies" - non-cash housing subsidies are a form of state support for citizens of the Republic of Belarus, foreign citizens and stateless persons who have received a permanent residence permit in the republic and a residence permit for partial payment of housing and communal services. Since October 2016 In our republic, a system is in place for providing citizens with non-cash housing subsidies (BWS) on a declarative and revealing basis.
     In order to receive BJS on a declarative principle, citizens must independently collect the necessary documents and apply to the subsidizing service of the Berezovskoye Housing and Public Utilities SUE, an authorized organization for calculating BJS in the district, at the address: Bereza, Olshevsky 27A, cab. 303, t. 2-36-25
       By Decree of the Council of Ministers No. 775 of September 27, 2016 The list of documents required for the provision of BZHS is established:
application for a subsidy;

passport or other identification document;

documents confirming the income of the homeowner and family members for 6 months (certificate of salary, benefits, income from entrepreneurial activity, etc.);

birth certificate of a child (for those who have children under 18 years old);

certificate of marriage (or divorce);

passion certificate or a certificate of a disabled person (if the owner's family has pensioners or disabled people);

work book (for non-working citizens over 18 years old).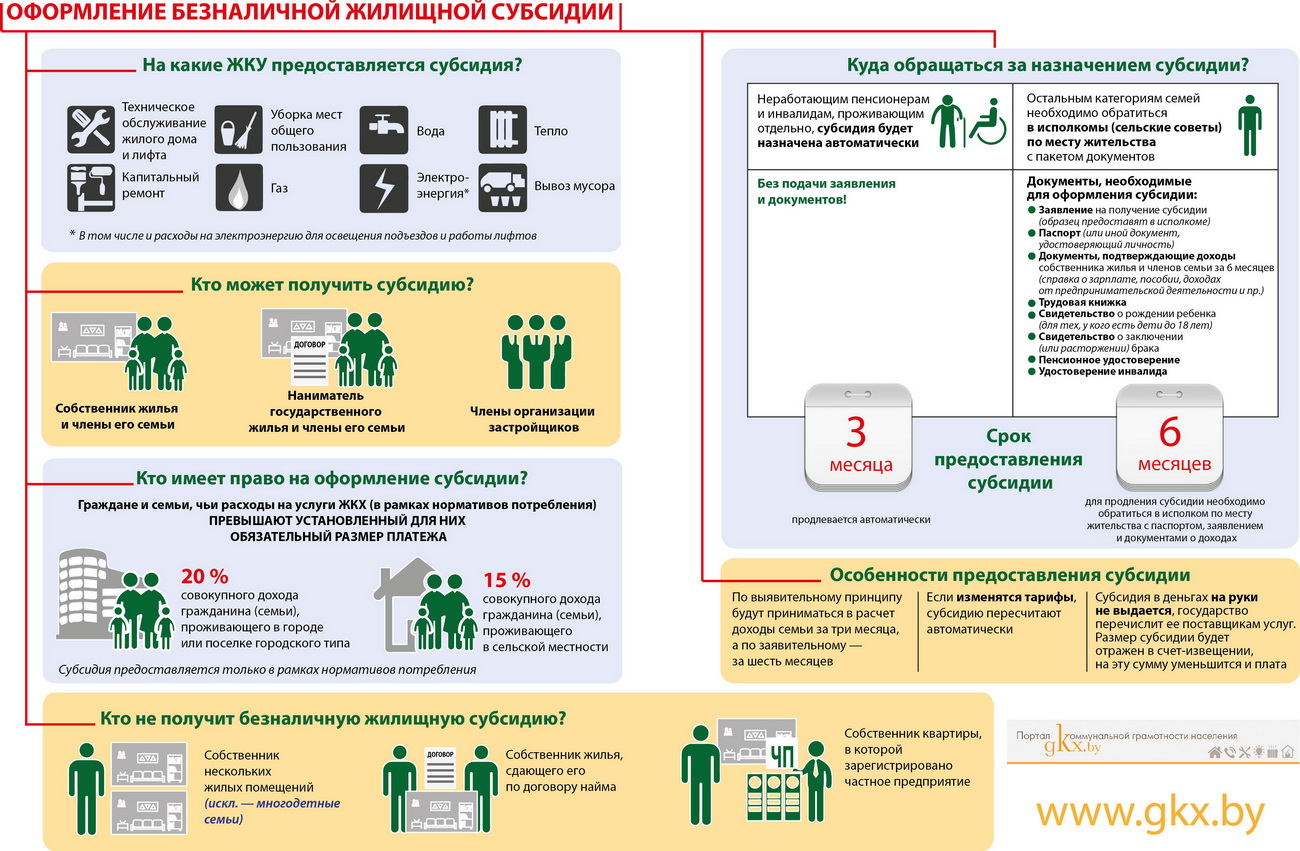 Consumption rates of subsidized housing and communal services

Types of housing and communal services

Unit of measurement

Consumption rate

(for 1 person)

Consumption rate for non-working pensioners and disabled people

(for 1 person)

Basic housing and communal services

Maintenance

sq. meter

20 for each registered and 10 for a family

within the total area of the premises

Overhaul

sq. meter

20 for each registered and 10 for a family

within the total area of the premises

Elevator Maintenance

rubles per month

0,6911

0,6911

Hot and cold water supply, drainage (sewerage):

1. there is water supply and sewage:

water supply, water disposal

liters per day

140

140

water heating

Gcal per day

0,0042

0,0042

2. there is water supply without sewage

 

 

water supply

liters per day

50

50

water heating

Gcal per day

0,0015

0,0015

3. water from standpipes only

 

 

water supply

liters per day

35

35

Heat supply

Gcal on 1 sq. meter

0,026

(within 20 sq. meters per registered and 10 sq. meters per family)

0,026

(within the total area of the dwelling)

Solid municipal waste management

cube meters per month

0,15

0,15

Sanitary maintenance

rubles per month

0,53

0,53

Power supply

Electricity in apartments and houses, where:

depending on the number of people in the family

1. there is an electric stove

kWh

90 (1 person)

145 (2 people)

180 (3 persons)

240 (4 people)

250 (5 человек)

250 (6 people and more)

90 (1 person)

145 (2 people)

180 (3 persons)

240 (4 people)

250 (5 человек)

250 (6 people and more)

2. no electric stove, but there is hot water and gas

kWh

60 (1 person)

75 (2 people)

90 (3 persons)

120 (4 people)

150 (5 человек)

150 (6 people and more)

60 (1 person)

75 (2 people)

90 (3 persons)

120 (4 people)

150 (5 человек)

150 (6 people and more)

3. no electric stove, hot water and gas

kWh

75 (1 person)

120 (2 people)

150 (3 persons)

200 (4 people)

250 (5 человек)

300 (6 people and more)

75 (1 person)

120 (2 people)

150 (3 persons)

200 (4 people)

250 (5 человек)

300 (6 people and more)

4. there is no electric stove, but there is equipment for heating and (or) heating water with a total capacity of more than 5 kilowatts:

depending on the number of people in the family

during the heating season

kWh

475 (1 person)

520 (2 people)

550 (3 persons)

600 (4 people)

650 (5 человек)

700 (6 people and more)

475 (1 person)

520 (2 people)

550 (3 persons)

600 (4 people)

650 (5 человек)

700 (6 people and more)

in summer

kWh

75 (1 person)

120 (2 people)

150 (3 persons)

200 (4 people)

250 (5 человек)

300 (6 people and more)

75 (1 person)

120 (2 people)

150 (3 persons)

200 (4 people)

250 (5 человек)

300 (6 people and more)

Gas supply

Gas supply and supply of liquefied petroleum gas from an individual tank installation:

1. In the presence of a gas stove and hot water (including from a water heater, except gas) and with gas supply:

 

 

natural gas

cube meters per month

8,0

8,0

liquefied petroleum gas through a connected network

cube meters per month

3,0

3,0

liquefied petroleum gas from an individual tank installation

kilograms per month

5,8

5,8

2. If there is a gas stove, gas water heater and gas supply:

 

 

natural gas

cube meters per month

23,0

23,0

liquefied petroleum gas through a connected network

cube meters per month

8,5

8,5

liquefied petroleum gas from an individual tank installation

kilograms per month

16,5

16,5

3. In the presence of a gas stove, but without hot water, as well as a gas water heater, and gas supply:

 

 

natural gas

cube meters per month

13,0

13,0

liquefied petroleum gas through a connected network

cube meters per month

4,0

4,0

liquefied petroleum gas from an individual tank installation

kilograms per month

7,8

7,8

4. n the presence of individual gas heating devices:

 

 

during gas supply during the heating period:

 

 

natural gas

cube meters per month

160,0

160,0

liquefied petroleum gas through a connected network

cube meters per month

60,0

60,0

liquefied petroleum gas from an individual tank installation

kilograms per month

120,0

120,0

during gas supply in summer:

 

 

газомnatural gas

cube meters per month

60,0

60,0

liquefied petroleum gas through a connected network

cube meters per month

20,0

20,0

liquefied petroleum gas from an individual tank installation

kilograms per month

40,0

40,0

Supply of liquefied petroleum gas from an individual cylinder installation (cylinders - 21 kg)

kilograms per month

8,75

8,75

Reimbursable expenses

Reimbursement for auxiliary lighting

rubles per month

0,39

0,39

Reimbursement of costs for the movement of the elevator

rubles per month

0,26

0,26